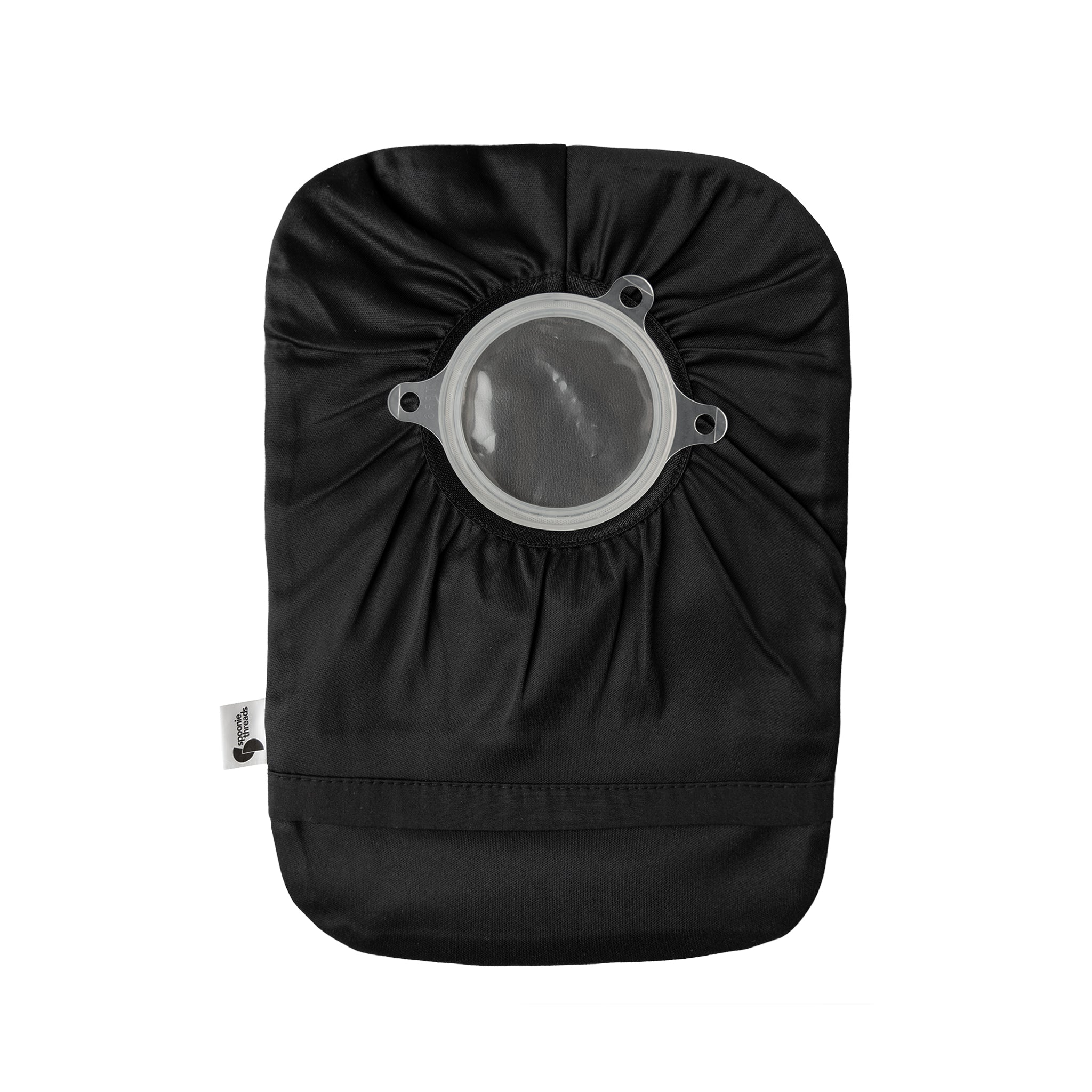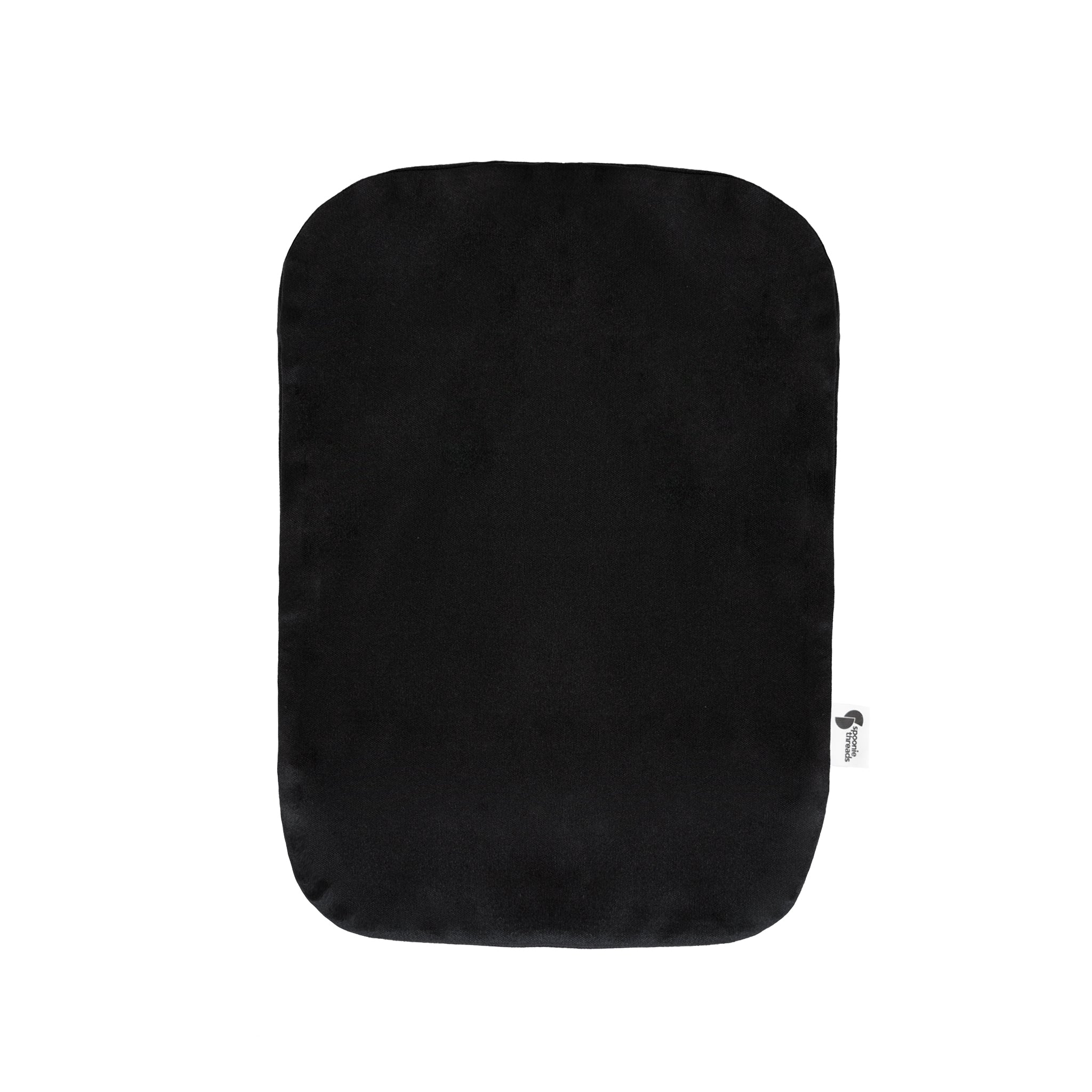 Black Elastic Ostomy Bag Cover
Spoonies! Check out our ostomy bag cover that features an adjustable elastic stoma opening. The elastic cover is designed to CINCH tightly around your stoma for a more custom, form-fitting experience to protect your bag from outside elements.
Say goodbye to leaks and stains with an extra layer of security between your ostomy bag and clothing. This cover is made to be lightweight and water-resistant just like the Spoonie Thread covers you already know and love. Sizing is easy to figure out and compatible with all pouch brands!

Need to empty your pouch while you're on-the-go? Our flip-bottom design lets you empty your pouch with the cover on. No fuss, no mess. 
Please note this product is water resistant but not 100% waterproof, it does not have a watertight seal around the flange and the bottom flap may allow water inside the cover during activities like showering. You certainly can wear it in the shower, but it may not keep your pouch completely dry.
TIGHT FIT: Enjoy a tailored fit that works with any pouch brand. The adjustable elastic opening cinches to ensure your ostomy bag will be snugly fastened. This cover fits 19+ styles and 6 different sizes, catering to your unique needs.

LIGHTWEIGHT: Designed with Spoonies in mind, this lightweight and flexible cover offers an extra layer of security, allowing you to move with confidence and comfort without weighing you or your bag down. Works comfortably with ostomy belts and waistbands too.

PROTECTION: Crafted from water-resistant material, this cover provides a protective shield against leaks and stains. While it's not 100% waterproof due to the absence of a watertight seal around the flange, it offers convenience for activities like showering. The bottom flap may allow some water inside the cover, but you can still use it confidently during your daily routines.

STYLISH: Step out in style and embrace daily activities with this water-resistant ostomy bag cover. Designed for both men and women, it offers not only coverage and protection but also a touch of style to your daily routine. Feel confident and secure as you go about your day, knowing you're supported by a versatile ostomy cover that balances functionality and fashion.

EASY EMPTYING: Need to empty your pouch while you're on-the-go? Our flip-bottom design lets you empty your pouch with the cover on. Simply open the pocket flap to access the bottom of the bag without having to take the cover off. Convenient while traveling or using public restrooms.

CUSTOMIZED: Experience optimal comfort at its best by choosing from various sizes (5x8, 6x9, 6x11) and two opening options (small/large). The elastic opening stretches snugly around your stoma, providing a custom, form-fitting experience that complements your lifestyle and preferences.

REUSEABLE: Wear our fabric covers again and again. Multiple-wear items are convenient and economical! When a clean is needed, machine wash cold and air dry only. Change the color of your stoma cover with your mood or the season!
• Machine wash cold, air dry only
Very Disappointed Take 2
Falls right off. Needs to be used with a barrier that has a rigid...I don't know. The elastic fits around the soft plastic top of the bag. There is nothing to hold it on other than the stretch band. So the bag needs some kind of rigid ring for the elastic of the cover to hold on to. Nope. Not doing that.
New bag cover
I am very happy with my bag cover. I will order more
It wasn't true to size and had to be returned. The other cover that was ordered was true to size.
Nicely made, as described
Nicely made, as described. Fast shipping. would not hesitate to purchase from this shop again.
The quality of this item is excelled
The quality of this item is excelled, the material it is made from is great.This item matched the description perfect. All my expectations were met, so I ordered two more. I had an appointment with my surgeon he asked me where I purchased the item so he could tell his other patients about them. (he loved them)