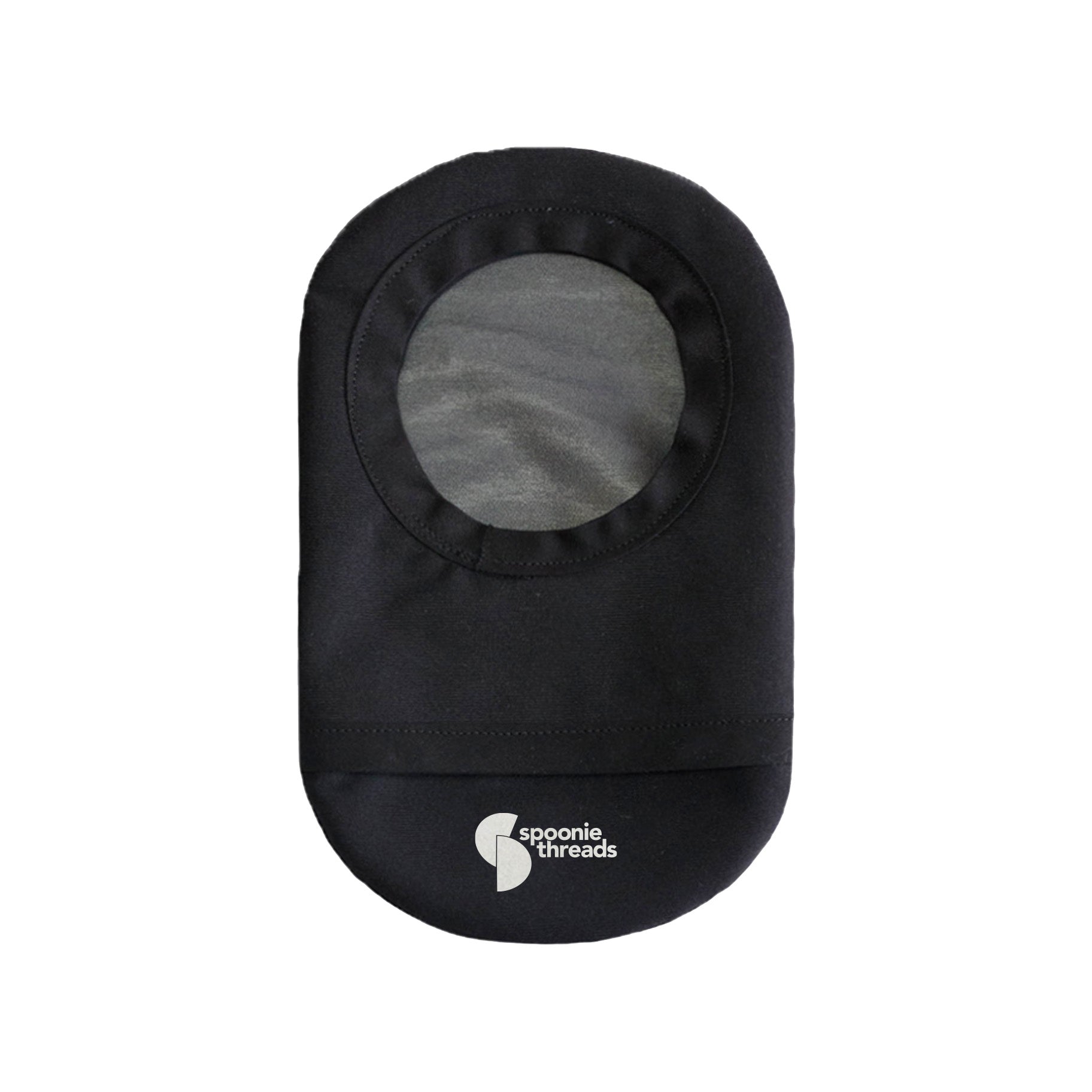 Our little black bag is a classic. This lightweight, water-resistant ostomy cover provides an extra layer of security between your ostomy bag and clothing – so you can say goodbye to leaks and stains!

Need to empty your pouch while you're on-the-go? Our flip-bottom design lets you empty your pouch with the cover on. No fuss, no mess.
Please note this product is water-resistant but not 100% waterproof, it does not have a watertight seal around the flange and the bottom flap may allow water inside the cover during activities like showering. You certainly can wear it in the shower, but it may not keep your pouch completely dry.
Give yourself additional support! Add a WAISTBAND to your order.
• 1 Plain Black Ostomy Cover (our most popular color!)
• Water-resistant material prevents leaks and stains
• Bottom flips open for easy emptying
• Precise size options for the perfect fit, no matter which pouch you use
• Please note, this ostomy cover does not form a watertight seal around an ostomy pouch, so it will not keep your pouch dry in the shower or pool.
• Machine wash cold, air dry only
Good product
Water proof material is very good, price wise is average.
Fits and looks great
All the above fits and looks great
Ostomy Bag Cover
During the daytime wear, it is a good protector. Nighttime wear is a bit more challenging. I do not see an example of the type of pouch I wear. It is the type that has a connector to a tubing system that drains into a larger bag. That is where it is the most uncomfortable. In fact, I do not see any products using that model.
Opinion
I wasn't pleased with your company name bring on the Ostomy covers as it doesn't help to keep them from being conspicuous.
I do like the quality and price but not the above.
Thank you!
Hi Kathleen, we understand your concern about this matter and we appreciate that you continued communication with us directly regarding our brand label. Our label is printed on the cover on the side that faces the body so it's not visible to others when the cover is worn. Thank you again for your understanding!