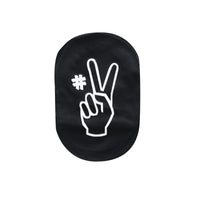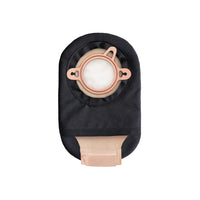 "Peace Out #2" Ostomy Cover
We love the subtly of this design! At a first glance, a stylized peace sign ✌️ is evident, but a closer look reveals the more playful #2 reference. Wear this when you want to let your fun-loving side show. Mix and match this bag cover with our other colors or prints to show your ostomy attitude!  
This lightweight, water-resistant ostomy cover provides an extra layer of security between your ostomy bag and clothing – so you can say goodbye to leaks and stains!

Need to empty your pouch while you're on-the-go? Our flip-bottom design lets you empty your pouch with the cover on. No fuss, no mess.
Please note this product is water-resistant but not 100% waterproof, it does not have a watertight seal around the flange and the bottom flap may allow water inside the cover during activities like showering. You certainly can wear it in the shower, but it may not keep your pouch completely dry.  

FEATURES:
1 Black "Peace Out #2" Ostomy Cover 

Water-resistance material prevents leaks and stains

Bottom flips open for easy emptying

Precise size options for the perfect fit, no matter which pouch you use

Please note, this ostomy cover does not form a watertight seal around an ostomy pouch, so it will not keep your pouch dry in the shower or pool.
MATERIALS & CARE:

Machine wash cold, air dry only

SIZING:
Scroll to the final image or click here for the size chart
Measure the width and length of your ostomy pouch (in inches) to find the Pouch Size. If your pouch empties at the bottom, roll it up and/or close the bottom before measuring. Then choose an opening size (diameter in inches) that will fit around the flange of your ostomy pouch.
The easiest way to find the right opening size is to place a ruler across the ring and measure at the widest point, as shown. If your pouch has a large oval-shaped flange (like the Coloplast Sensura), choose the Flange Size: "3.5" Oval." Most ostomy pouches will have a round flange between 2.5 and 3.5 inches in diameter.
Give yourself additional support! Add a WAISTBAND to your order.
Peace ostomy cover
The cover fit great it hides that ugly bag and protects the bag from being ripped would purchase again and recommend
Happy
It arrived fast really happy with it
Thank u
Thanks so much for leaving a review! We are happy to hear you are happy with our Ostomy Cover.